Elephant's History with Film Projectors
Elephant became the Far East distributor of theatre and sound equipment such as 35mm film projectors manufactured by firms such as RCA, the National Theatre Supply Co., Cinemeccanica from Italy, Tokiwa from Japan, and ISCO from West Germany. We also introduced the Cinemascope technology to Hong Kong in 1954.
From the 1950s to the 1970s, during the golden age of movie theatre construction in Hong Kong, Elephant was responsible for installing film projectors and movie sound systems for many cinemas all over the city: the Roxy Theatre (1949 – 1974); Kwong Wah Theatre (1950 – 1991); the City Hall (1963); Yuen Long Cinema; Silver Theatre in Kwun Tong (1963 – 2009); King's Theatre in Central (renovated in 1964 – 1990); and Lux Theatre in Hung Hom (built in 1971 and still standing). In 1957, our founder Norman Li was also involved in leasing the Astor Theatre (re-developed in 1987 into the Eaton Hotel)
In more recent years, Elephant provided the film projectors for Broadway Cinematheque in Yau Ma Tei, and Broadway The One in Tsim Sha Tsui.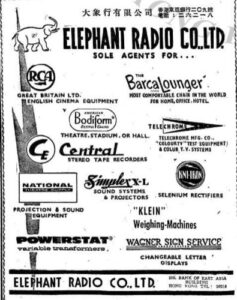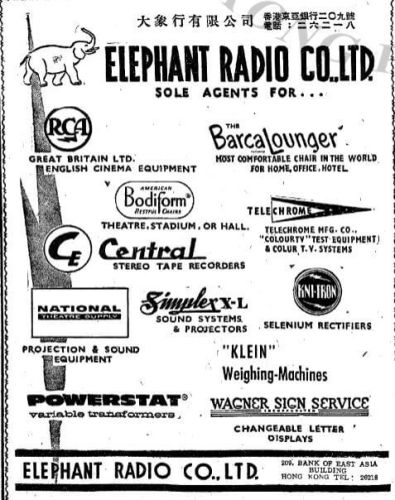 Elephant Radio's newspaper ad in
Wah Kiu Yat Po/Overseas Chinese Daily News
listing all the products for which it was the exclusive distributor in Hong Kong, Aug 1960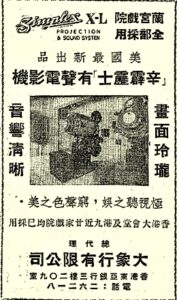 Elephant Radio's newspaper ad for Simplex film projectors on 12 Sep, 1963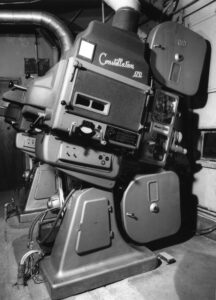 70mm Constellation, 170 film projector at the Roxy Theatre in Causeway Bay, Feb 1960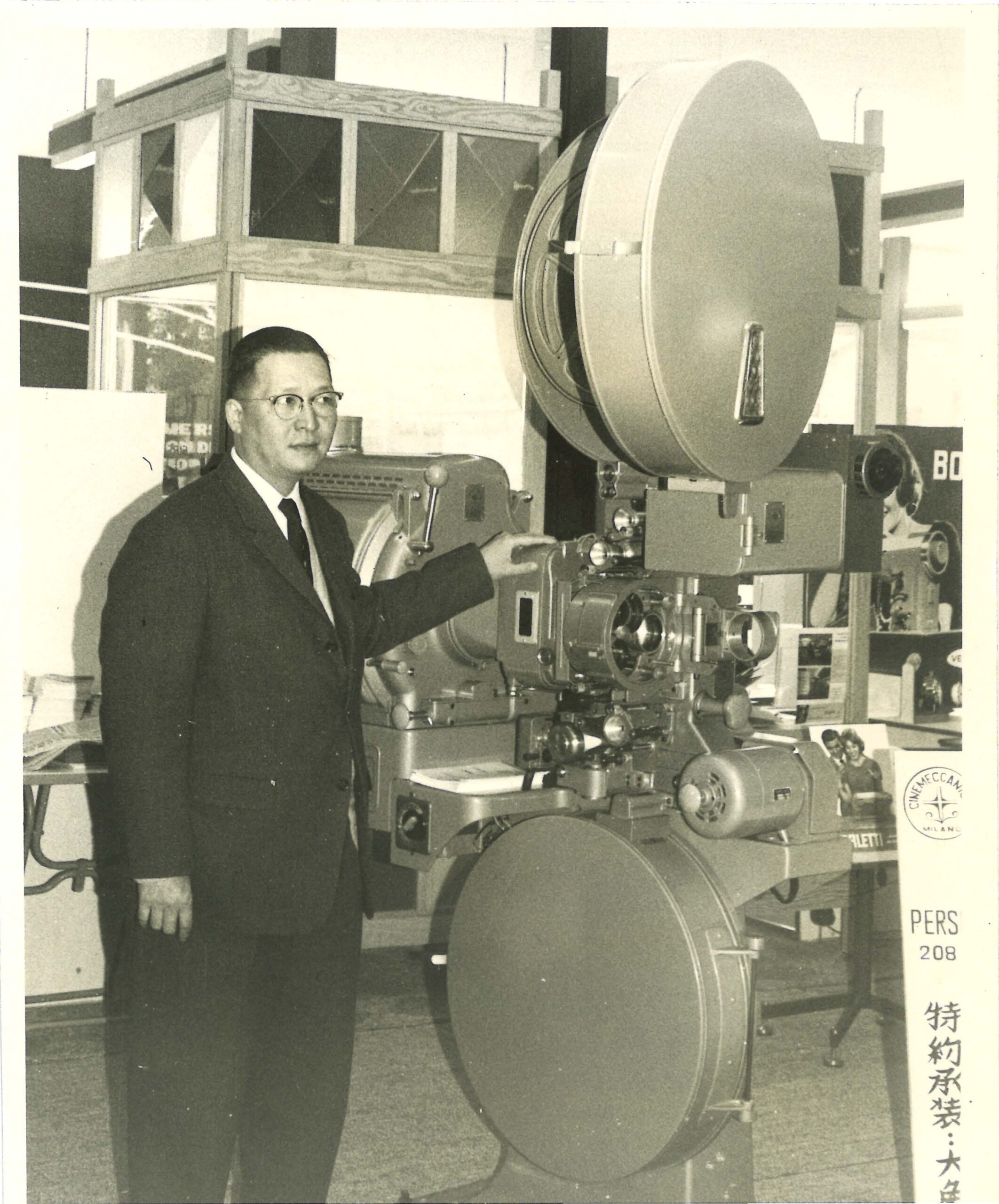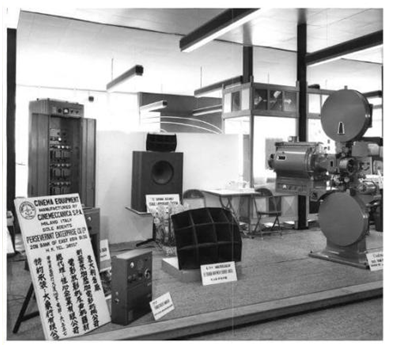 Mr. Norman Li introducing the Victoria 8 film projector with a dual 35/70 mm film gauge produced by Milan-based Cinemeccanica, March 1963.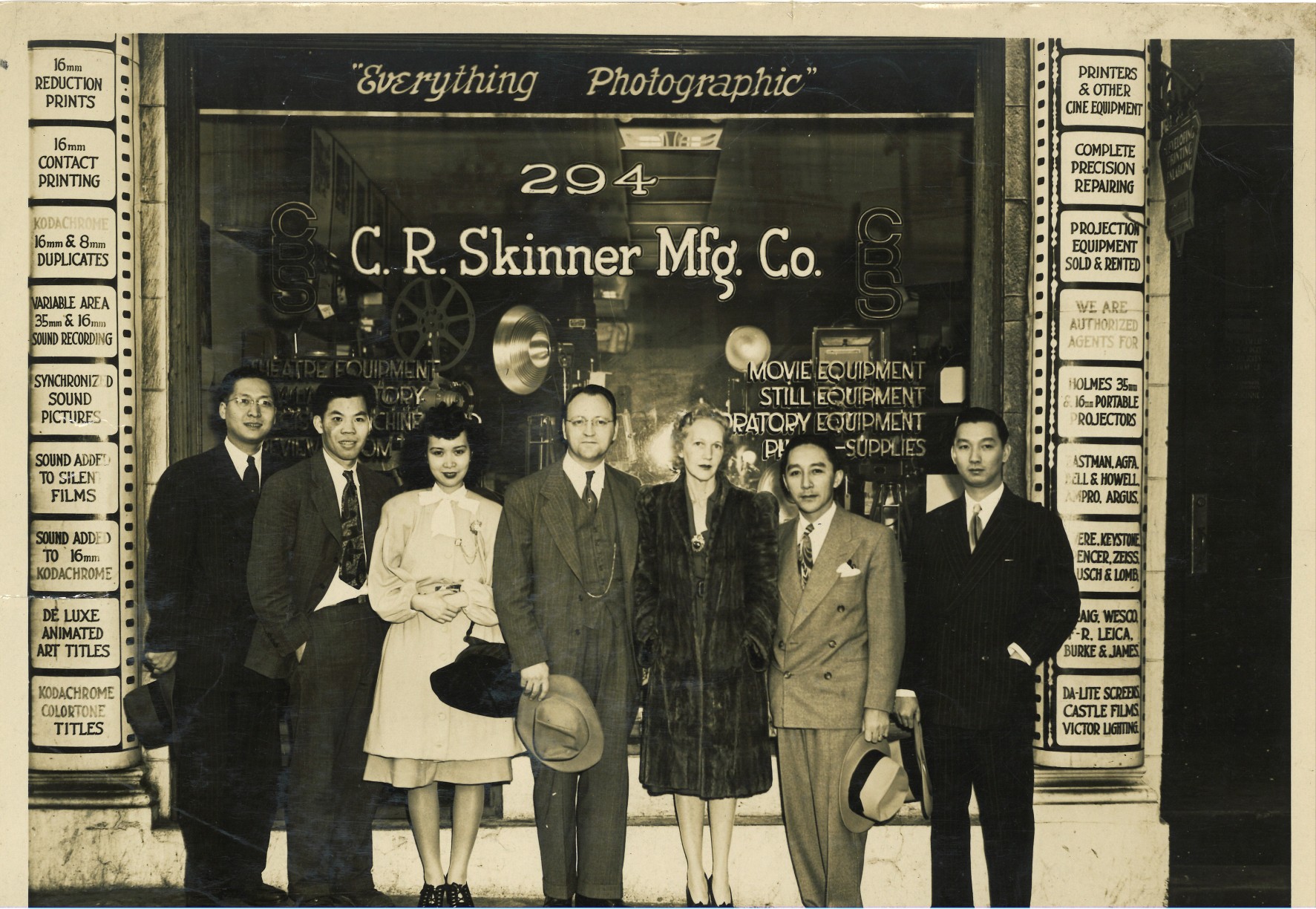 Norman Li (first from right) and colleagues visiting Clifton Ross Skinner of C.R. Skinner Manufacturing Co. in San Francisco, which repaired, assembled and remodelled radios and amplifiers, and was the first US importer of Canon cameras in the 1950s.
Elephant's founder Mr. Norman Fook-Cheung Li at the Roxy Theatre in Causeway Bay, Feb 1960.
Repair and Maintenance Service for Film Projectors
We currently provide repair and maintenance services to film projectors at various public venues for the Leisure and Cultural Services Department (LCSD), including the Hong Kong Film Archive, the Science Museum, the Space Museum, as well as City Hall.
Repair and Maintenance Service Steps:
Film Projectors 101 – Introductory videos